Liebherr 1800C-60 Tower Crane 60 ton crane Reconditioned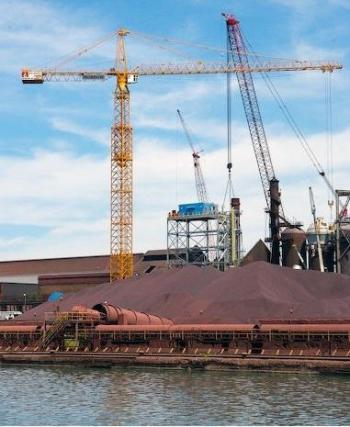 Options:

-30 package - CSA Certified

Specs:

60 ton

Condition:

Reconditioned 2012 - no use

Quantity:

In stock
FOR SALE - LOCATED IN TEXAS

This Liebherr 1800 C60 Tower Crane is a jacking crane. The mentioned Tower Crane hasbeen fully refurbished to comply with all CSA requirements. This crane has been re-rated to operate in -30°C ambient temperatures. The 1800 C60 can lift 20ton at 20tonnes with a 66.5m(218') jib configuration, or 15tonnes with a 79.4m(246') jib configuration at a 360° radius. Platforms have been designed to assist with pendant install on Counter jib to put workers in a fall free zone. Utilizing a swing stage system on mast will eliminate workers being forced to climb inside of mast sections during
install. All work is complete refurbishing this crane and it is ready for service at any time.
Safety;
When the Liebherr 1800 C60 was being refurbished, Safety was the first consideration;
All electrical components refurbished to comply with CSA standards;
The Liebherr 1800C-60 Tower Crane is a free standing Tower Crane that was to be located at Albian Sands, Jack Pine Mine and Muskeg River Mine for the purpose of material handling on a constructionsite. The Motor platform includes a 400 Hp DC motor assembly consisting of two 200 Hp DC motorswired in series to drive the hoist drum from both ends. The Trolley motor is a 30 Hp DC motor. The turning ring motor assembly consists of three pairs of 240 VDC motors wired in series so that each pair is
on a 480 VDC branch circuit. All DC motors are controlled by certified drives that are protected on the AC primary side by appropriate sized certified over current protection. All controllers are located in a purpose built IP55 E-house at the aft end of the counter jib, below the hoist deck. All equipment is made finger safe. The hoist deck now includes a heated weather enclosure with provisions for ventilation in the summer months in order to maintain equipment at temperatures above -25 deg C.
60 ton Tower crane - FOR SALE - LOCATED IN TEXAS
Completely reconditioned 2012
Call for details: 281-463-4200
Located in Texas