Refurbished-boomlifts-Scissor-lift-forklift
Reconditioning
Boomlifts4sale specializes in reconditioning/refurbishing of all scissorlifts and boomlifts. With the reconditioning of your aerial equipment you extend the useful life of an asset.
Popular reconditioned scissorlifts we sell:
Genie 1930, Genie 2632, Genie 2646, Genie 3246                                                          
SkyJack 3219, SkyJack 3226, SkyJack 4632

Why should a machine be reconditioned?
Increase machine productivityand proformance
Reduce operating costs to like-new levels
Increase resale value and or rental rates from 15% to 50% depending on condition
Improves your company's image
Preserves capital
Please contact Boomlifts4sale for all your aerial equipment parts, service & sales.
Call and talk to a Aerial Equipment specialist: 1-281-463-4200 or info@boomlifts4sale.com
Services we offer
Refurbishment and Rebuilding
ANSI inspections
Major Repairs
Paint Services
Field Service Support
Parts for all Manufactures
Boomlift and Scissorlift Inspections, Training, Shipping
JLG 260 MRT Rough Terrain Scissorlift - Refurbished / Reconditioned
JLG 260MRT 4X4 Scissorlift Dual Fuel or Diesel available - 6 month parts warranty
*REFURBISHED with the following: Rebuilt upper and lower controls,
new base to deck control cable, covers replaced, pump tested and rebuilt/replaced if needed, engine tested and serviced as needed, cylinders replaced, hand sanded and painted, ANSI inspection decal

*Due to other orders we may have a lead time** **Please check with us**
Toll free: 1-844-248-0482 / +1-281-463-4200 - Se habla español
LATAM: +502-2219-8357


More
   Refurbished / Reconditioned 19'/6m Electric Scissor lift 
Refurbished / Reconditioned 26'/8m Electric Scissor lift                                                                      
Refurbished 32'/10m Electric Scissor lift                                                                                     
Refurbished 40'/12m Electric Scissor lift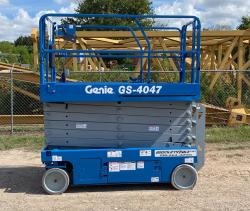 Refurbished Telescopic Boomlifts
Refurbished Articulating Boomlifts