Genie 1930 Scissor Lifts *REFURBISHED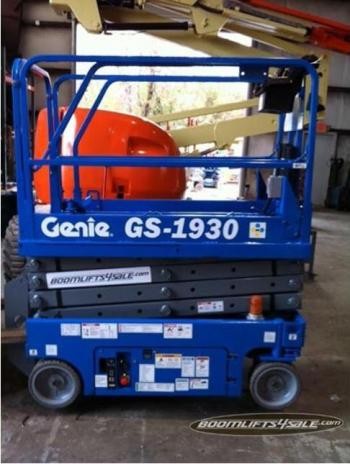 Options:

All Genie electric scissorlifts available. Call for pricing. GENIE 1530, 1930, 2032, 2632, 2646, 3246

Specs:

Condition:

Operational, Used, As-Is, Refurbished and NEW

Quantity:

In stock
Low noise levels make the Genie 1930 ideal for quiet work settings and high-angle steering provides good maneuverability
Genie 1930 electric scissorlift.
Refurbished sold with 1 year parts warranty- 2 year product support.

The Genie 1930 has a working height of 25 feet and a 39-inch rollout platform extension. At 30 inches wide, it's compact and has a lift capacity of 500 lbs.
Low noise levels make the Genie 1930 ideal for quiet work settings and high-angle steering provides maneuverability. Also, a solid steel deck helps prevent slips and steel guardrails provide durability. The lift has an automatic 25 amp battery charger, while a variable speed motor adds to the motor's life.
We have new, used and refurbished versions of the following models: 1530, 1930, 2032, 2632, 2646, and 3246. Call for pricing!