Gradall Telehandlers Forklift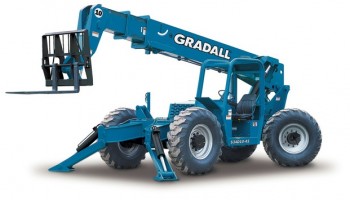 Options:

All models available: 35E, 45E, 450E, 450EAJ, 600A.

Specs:

Condition:

Operational, Used, As-Is, Refurbished and NEW

Quantity:

In stock
Gradall parts and Telehandlers. Available wholesale.
Gradall telehandler 6000lbs, 8000lbs and 10,000lbs capacity
The rough-terrain Gradall 10K Forklift combines an impressive lift capacity with 41-foot maximum reach, and features 90-degree rear-pivot steering for the tight turning radius needed in crowded working areas.
A mid-mounted engine provides balanced weight distribution and a no-shift hydrostatic drive train lends precise handling. The 10K also comes with foam-filled tires.