Genie S-60 S-65 boom lift 4X4 Diesel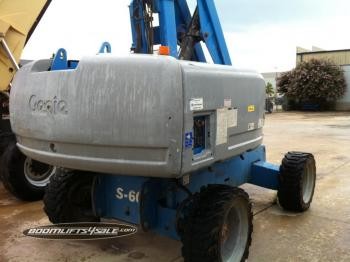 Options:

Oscillating axle, 4X4 & 2WD, 6' basket & 8' basket available.

Specs:

66' working height, 60' platform

Condition:

Operational, Used, As-Is, Refurbished and NEW avialable

Quantity:

In stock
The Genie S-60 Diesel comes with a platform height of 60 feet and a working height of 66 feet.

GENIE S60 specifications
Working Height* 66 ft (20.30 m)
Platform Height 60 ft (18.30 m)
Horizontal Reach 50 ft 10 in (15.48 m)
Lift Capacity 500 lbs (227 kg)
Genie S-60 Man Lift
All year models available.
Please call for pricing and year model.
We have several Genie S-60 Genie S65 Diesel boom lifts available, including 4WD and 2WD versions, with 6-foot and 8-foot baskets.
The Genie S-60 Diesel comes with a platform height of 60 feet and a working height of 66 feet. Additionally, the model has a horizontal reach of over 50 feet and a 500 lbs lift capacity.
Most of our models—we have new, used and refurbished versions—come with oscillating axles, rough terrain tires, self-leveling platforms, and hydraulic platform rotation. Prices start at $21,500.
Please call or email for current stock and pricing.