Genie Boom Lifts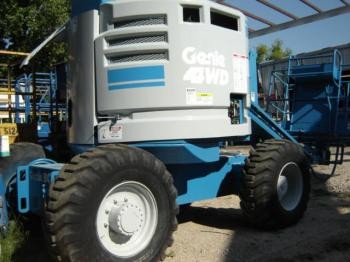 Options:

4WD or 2WD. Dual fuel and diesel available.

Specs:

Condition:

Operational, Used, As-Is, Refurbished and NEW

Quantity:

In stock
The Genie Z45/22 excels at the most hard-to-reach construction tasks,with a working height of 51 feet 8 inches and an up-and-over clearance of over 22 feet
Genie Z45/22 and 45/25 2WD or 4WD. Many available!
We have several Genie Z45/22 and 45/25 boom lifts available, with 2WD and 4WD.
With a working height of 51 feet 8 inches, a horizontal reach of 25 feet 1 inch, and an up-and-over clearance of over 22 feet, the Genie Z45/22 excels at the most hard-to-reach construction tasks. Additionally, some of our models come with an articulating jib for extra range of motion.
A large platform with hydraulic rotation, with a lift capacity of 500 lbs, provides ample room for two workers and their tools. And the 2WD version of the Genie Z45/22 is the fas test boom in its class, traveling at 3 mph.