JLG 3969 4069 electric scissorlift aerial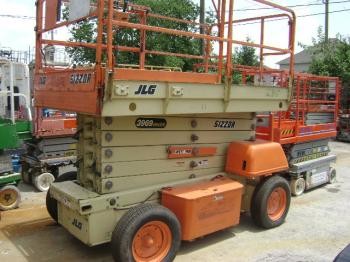 Options:

39' platform, 45' working height, 69" wide.

Specs:

Condition:

Operational, Used, As-Is, Refurbished and NEW

Quantity:

In stock
The JLG 3969 Electric Scissor Lift features a working height of 45 feet. Its durability and electric engine make it suitable for clean and quiet industrial tasks
45' working height, 39' platform, 69" wide, deck ext.
The JLG 3969 Electric Scissor Lift, with a wide platform and a lifting capacity of nearly 800 lbs, features a working height of 45 feet.
Its durability and electric engine make it suitable for clean and quiet industrial tasks. Other features include built-in battery chargers and platforms with slip-resistant plating. An optional rollout extension allows you to reach over obstacles. The JLG 3969 has a width of 5 feet and a stowed height of 8 feet 5 inches.
We have several new, used and refurbished models. Call for pricing!